Mobile Data Center
Ideal for government agencies as an Emergency Operation Center (EOC)for Crisis Management, the NAAT Mobile Emergency Datacenter MED™ is an alternative or adjunct to fixed Disaster Recovery Sites. Utilizing a completely custom-built, self-contained, self-propelled vehicle (20-25 ft Truck) that contains an onboard generator, UPS, Multiple High-Capacity Servers, Satellite Internet Links and Wireless Ethernet Transceiver's to support Wireless laptops.

Click here for an animated version of the MED.

In addition, it can also be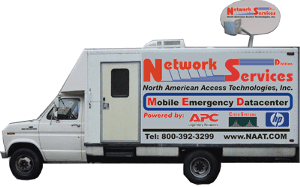 equipped as an Emergency Communications Center with Satellite and cellular telephones and fax machines. It can create a secure, encrypted, wireless, Command-and-Control Communications zone, up to several miles in diameter.

Calculating Cost of Mobile Data Centers – eWeek

The NAAT Mobile Emergency Datacenter is able to drive to any habitable location with power (or even just a fuel supply for the onboard generator). The MED™ can carry and support 20-100 fully charged, ready to go, Wireless Laptops and networked printers which can be rapidly deployed. It would be immediately ready to support the EOC response team with GIS information, Internet access and Email as well as other previously designated critical information and systems.

By using ruggedized high-density systems, the NAAT MED™ can support and mirror your existing conventional Data Center with the capability to support Multiple Terabytes of Data and different operating systems such as AS400, Unix/AIX, Solaris, NT/2000, Novell, etc. It can be configured as a Hot Site using Data Replication, so that if a disaster destroyed or disabled the primary Data Center, it will contain any critical systems and current data.

The NAAT Mobile Emergency Datacenter could compliment any existing Emergency Services Vehicles which performs a similar function for Police and Fire communication, but does not usually have any computer information support.
The NAAT Mobile Emergency Datacenter is ready to support your organization's computer infrastructure. It is equipped with a generator and UPS system for conditioned power, A/C system and (4) full-size 19" enclosed Racks - pre-cabled with CAT-5E patch-panels.
Contact NAAT to see how our Network Services Team can help your organization design and implement Mobile Emergency Datacenter systems and strategies for Crisis Management and Disaster Recovery.